PLATO Cafe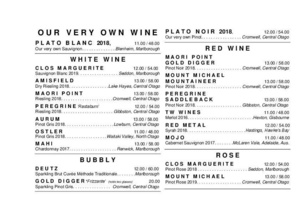 A relaxed eatery located on the harbourfront of Dunedin, New Zealand.
Occupying a former hostel for seafarers from around the world, we retain our links to the sea through an ever-changing menu with an emphasis on seafood, but also showcases a wide range of local produce and beverages, including our very own boutique beer made here at Plato "Birch St Brewery"
Our philosophy is simple - we aim to provide good food, matched with good service, in comfortable surroundings. We don't like to over-complicate food. And we're totally subjective; we cook what we like to eat ourselves.
OPEN
Dinner: Mon-Sun 6pm-Late
Lunch: Wed-Sat 12noon-2pm
Brunch: Sun 11am-2pm
CHRISTMAS TRADING HOURS:
Plato will be closed for 4 days over the Christmas/New Year period
Closed Sunday 25th December 2016
Closed Monday 26th December 2016
Closed Sunday 1st January 2017
Closed Monday 2nd January 2017
All other days have the above regular opening hours.
Book now for your Christmas function, Work Do or discuss out catering options.
Private spaces and set menu's available. Please see our menu's and beverage lists.
Contact for further details.

Bookings recommended
For A Gift Voucher please send us an email or call 03 477 4235
We also accept The Restaurant gift card
http://www.giftstation.co.nz/restaurant.html