Birch Street Brewery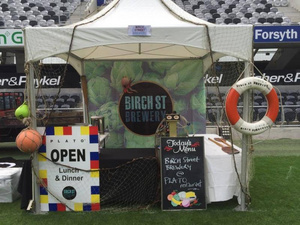 Birch Street Brewery is currently CLOSED.
To help carry us over, we've got some kegs from our mates at Local Dunedin Breweries on tap.
*Based at PLATO, Birch Street Brewery offers contemporary craft beers brewed the traditional way.
We run a microbrewery, creating honest and tasty beer, right here in Dunedin for PLATO diners. Most of the hops are grown right here in New Zealand and the beer has been featured at festivals including the Dunedin Craft Beer and Food Festival, and the Dunedin Beer Festival.
We contribute our good head on the beer to the fact that it's brewed onsite, in the old seafarers' laundry. We usually aim to have four Birch Street Brewery beers on tap, with a couple offering up unique seasonal flavours.
Some of our recent creations include a Passionfruit IPA, Elderflower beer, Imperial Elderflower, Impale Ale, Fruity NZ Pilsner, Good Buzz Pilsner, Amble and Fast Pils.
Like our food menu, we are always trying new things, and this carries through to our brewery. Make sure to ask wait staff about what's on tap.
You can see what we've been brewing and what's on tap by following Birch Street Brewery on Facebook. If you like what you taste, please give us a review on Facebook. We've been getting some great feedback on the beers.