Inside Plato
Have an inside look into Plato.

This video features Nigel, Restaurant Owner and shares some of the Plato Philosophy.

Watch Video

Plato has been a restaurant for 16 years, occupying the old British seafarers building on Dunedin's waterfront, run by owner operator Nigel Broad and family.
Basically. Plato strives to provide a service we would want ourselves, a place to feel at home, and to leave feeling satisfied and happy.

Seafood is our forte! We are living in a seaside environment - We love it, breathe it, live it and eat it!
Easter Hours 2018
Easter Hours- We have extended hours

Wednesday 28th March 12Noon-Late
Thursday 29th March 12Noon-Late
Friday 30th March (Good Friday) 12Noon-Late
Saturday 31st March 12Noon-Late
Sunday 1st April 11am-Late
Monday 2nd April (Easter Monday) 6pm-Late

Bookings advised CLICK HERE for online
Call 03 4774235 if booking within 24 hours
One thing all chefs have in common is the influence their mothers or grandmothers played in their love of food and cooking.
Nigel Broad owner/ operator of Plato Cafe is featuring in a Cook book published late last year.

"One thing all chefs have in common is the influence their mothers or grandmothers played in their love of food and cooking.

My Mother's Kitchen features more than 70 New Zealand chefs, cooks and foodies who share favourite recipes passed down from their mothers." ODT


Check out ODT article

Buy one
Holiday Hours
PLATO OPEN
Fri 22nd - lunch and dinner
Sat 23rd - lunch and dinner
Wed 27th - lunch and dinner
Thurs 28th - lunch and dinner
Fri 29th- lunch and dinner
Sat 30th- lunch and dinner
Jan 3rd-onwards as normal lunch, dinner and Sun brunch dinner
CLOSED
24th, 25th, 26th and 31st of December 2017, 1st and 2nd of January 2018

Thanks,

The team at PLATO

Plato top Sth Island Restaurant on 100% Pure NZ website
Plato named - One of the top South Island restaurants.

100% New Zealand

http://www.newzealand.com/int/feature/new-zealand-cuisine-creating-fine-food-art/
Dunedin ID fashion week
Call 03 477 4235
Opening hours for Plato this week. Week ending 26th March 2016

Lunch Wed-Sat - 12 noon -2pm
Dinner Wed,Thurs, Sun - 6pm
Dinner Friday 24th and Sat 25th - 5pm (this week only for the train station iD fashion shows)
Sunday Brunch 11am-2pm
Plato now serving - on tap - award-winning Croucher Lowrider Beer 2.5% alc/vol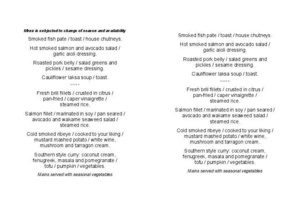 Croucher LOWRIDER IPA - 2.5% alc/vol
Believe it… this is a lower alcohol beer with plenty of flavour! At only 2.5% alcohol, most would expect a beer that is watery and flavourless, but LOWRIDER changes the game for those of us who need to keep a clear head, but do not want to compromise on hops! With a great malt character for its lower alcohol, this beer fills your nostrils with passion fruit aroma's, backed up with a deliciously fruity flavour. A true 'big flavoured' session beer.
TROPHY & GOLD Medal, Brewers Guild of NZ Awards 2016
Bronze medal, Brewers Guild of NZ Awards 2015
Silver medal, Brewers Guild of NZ Awards 2014
Gold Medal, Brewers Guild of NZ Awards 2013
Runner-up BEST BEER, SOBA Beer Awards 2013
http://www.croucherbrewing.co.nz