Dunedin ID fashion week
Call 03 477 4235
Opening hours for Plato this week. Week ending 26th March 2016

Lunch Wed-Sat - 12 noon -2pm
Dinner Wed,Thurs, Sun - 6pm
Dinner Friday 24th and Sat 25th - 5pm (this week only for the train station iD fashion shows)
Sunday Brunch 11am-2pm
Plato now serving - on tap - award-winning Croucher Lowrider Beer 2.5% alc/vol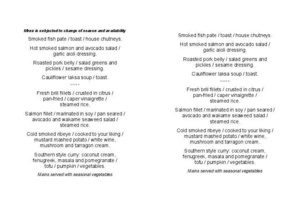 Croucher LOWRIDER IPA - 2.5% alc/vol
Believe it… this is a lower alcohol beer with plenty of flavour! At only 2.5% alcohol, most would expect a beer that is watery and flavourless, but LOWRIDER changes the game for those of us who need to keep a clear head, but do not want to compromise on hops! With a great malt character for its lower alcohol, this beer fills your nostrils with passion fruit aroma's, backed up with a deliciously fruity flavour. A true 'big flavoured' session beer.
TROPHY & GOLD Medal, Brewers Guild of NZ Awards 2016
Bronze medal, Brewers Guild of NZ Awards 2015
Silver medal, Brewers Guild of NZ Awards 2014
Gold Medal, Brewers Guild of NZ Awards 2013
Runner-up BEST BEER, SOBA Beer Awards 2013
http://www.croucherbrewing.co.nz
Happy New Year 2017 LUNCH HOURS
Plato has had a pretty busy January already and looking forward to promoting our lunch time hours this year.

"Great lunch"
Trip advisor Review 05/01/2017
A very quirky restaurant off the beaten track. Tasty meals and desserts to die for. Excellent service. Will go again for a dinner
Still holidays for some! Come by and visit us for lunch or a coffee.
LUNCH HOURS
Wednesday- Saturday
12 noon-2pm
BRUNCH
Sunday 11am-2pm

DINNER
7 DAYS A WEEK 6PM
BOOKINGS
Christmas and New Year trading hours
CHRISTMAS TRADING HOURS:
Plato will be closed for 4 days over the Christmas/New Year period
Closed Sunday 25th December 2016
Closed Monday 26th December 2016
Closed Sunday 1st January 2017
Closed Monday 2nd January 2017
All other days are regular opening hours.
OPEN
Dinner: Mon-Sun 6pm-Late
Lunch: Wed-Sat 12noon-2pm
Brunch: Sun 11am-2pm
Common Ground Coffee @ Plato
Plato is now serving Common Ground Coffee.
Common Ground is a small batch coffee roastery based here in Dunedin, specialising in nothing but quality!
Early dining pre Chiefs vs Highlanders
We are open from 4pm for dinner this Sat,16th July for the Chiefs vs Highlanders game.

Plato has lots of local parking and we are only a 15 min walk to the Stadium.

Book your ealry table BOOKINGS

Kick off 7.30pm
May Graduation, why not lunch or brunch?
Plato traditionally does get booked up for Graduation dinners.
If we can not accomodate you for dinner, then why not consider a Saturady lunch or Sunday Brunch?

OPEN
Dinner: Mon-Sun 6pm
Lunch: Wed-Sat 12noon-2pm
Brunch: Sun 11am-2pm